Stringybark Erotic Fiction Award 2023
OPENS 20 JUNE

The Stringybark Dog Eat Dog Short Story Award 2017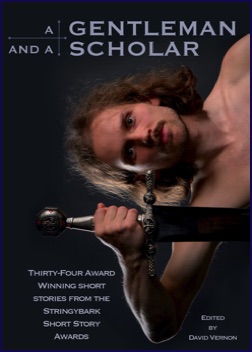 Competition Closed: 16 July 2017
217 entries. $1085 in prizes.
Judges: Antoinette Merrillees, Aislinn Batstone, Arna Walker and David Vernon
Editor: David Vernon
Cover designer: Michael Vernon
Ausralian printer: Kainos Print
The guilt-edged invitation winks at me as I take it from the mantelpiece.
You are invited to share my 70th birthday. But what intrigues me is the last line…I shall be making an announcement that will surprise you all.
A man as wealthy and powerful as Maxwell has many so-called friends, hangers-on, hopefuls and enemies, and the guest list reflects most of these. Although, I must confess there are a few surprises. Fabio Fabritzio, for example. He's the pool boy and apart from being visually beautiful, I can't imagine why Maxwell would include him.
— From "A Dish Best Served Cold" by Anne E Summers
"Murderer! You killed them just as surely as if you twisted the knife in their hearts. I hope you rot in hell… I hope you…"
My sister's face was contorted with fury, spittle on her lips.
— From "All in a Day's Work" by David Campbell
Thirty-four short stories are show-cased in this marvellous anthology created from the winning stories in the Stringybark 'Dog Eat Dog' Short Story Award 2017. Inspired by the titles of clichés, not one of these stories is a cliché. Fresh, imaginative and often funny, this is a wonderful Stringybark collection.
34 published stories. One e-book and printed anthology, A Gentleman and a Scholar
Edited by David Vernon, e-book and paperback, Stringybark Publishing,
ISBN: 978-0-6480884-1-7
A$14.95 includes postage within Australia. Discounts for multiple purchases. Please enquire for international orders.
Purchase E-book ($3.95 AUD)

THIRD PRIZE
A Dish Served Cold
by
Anne Summers
FIRST PRIZE
A Gentleman and a Scholar
by
Helen Lyne
SECOND PRIZE
Wild Goose Chase
by
Joanna Beresford
HIGHLY COMMENDED
A Stitch in Time Saves Nine — Maria Bianco
The Burning Question — Irene Buckler
On for Young and Old — Colin Campbell
All in a Day's Work — David Campbell
A Wolf in Sheep's Clothing — Susan Carey
Kicked the Bucket — Chris Childs
Every Cloud — Pauline Cleary
Don't Look a Gift Horse in the Mouth — Amelia Cook
A Dark and Stormy Night — Otto Fischer
What Goes Around… — Beverley A Fitzgerald
Whistle Blower — Barbara Fraser
The Last Laugh — Imogen Fullagar
What Goes Around Comes Around — CL Fulton
It's Not Who You Know — Thomas Gregory
Thicker than Water — Alexis Hailstones
Needle in a Haystack — Julian Howard
Salt of the Earth — Kym Iliff-Reynolds
Adding Insult to Injury — Tamara Jones
Get Stuffed — Grahame Maclean
Tempting Fate — Tyler McPherson
It's a Small World — Elizabeth Ffrench
It is Not Until the House Burns that we See the Faces of the Rats — Jon Presswell
On His High Horse —Eugenie Pusenjak
Conrad Spits the Dummy — Regan Rist
Window of Opportunity — Dorothy Shorne
No Bed of Roses — Alicia Sledge
There are Plenty More Fish in the Sea — Daan Spijer
A Nip in the Air — Judy Tindill
As Cold as Ice — Gayle Virgo
Bleeding Like a Stuck Pig — Michael Wilkinson
Love at First Sight — Lynette Willoughby