Stringybark Erotic Fiction Story Award 2023
CLOSED

The Stringybark Short Story Award 2016-17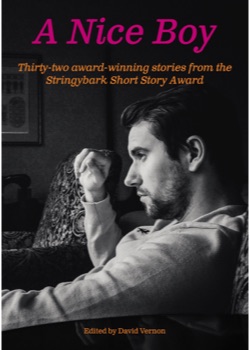 Competition Closed: 5 Feb 2017
218 entries. $1085 in prizes.
Judges:Ruth Ellison, Jamie Todling, Margie Perkins and David Vernon
Editor: David Vernon
Cover designer: Michael Vernon
Cover photographer: Olichel
Ausralian printer: TBA
"Thick red Northern Territory mud coated Barry's shins and arms up to his elbows. Every time he slapped a mosquito he left another muddy handprint. Mud — streaking his face, coating his clothes — had swallowed one of his sneakers; sand itched in his underpants and his bare back burned with insect bites. His beloved Cruiser was resting her axles on the shoulder of the dirt road, the left-hand wheels bogged to the wheel-arches. And Sharon had filmed it all."
— from 'The Weekend Warrior' by Kym Iliff-Reynolds
"Every day I watch her and pray she'll jump. Always the same time, late afternoon. When light softens and the wind dies down. She stands at the edge, with nothing in front of her but the ocean's expanse and the rocks below. Knees flex forward and straighten back again in a measured cadence. A rhythm stolen, perhaps, from a favourite song. Today, as in others past, she stops, steps back and slowly walks away." — from 'Prelude to Carrion' by George Lancaster
Thirty-two award-winning short stories fill these entertaining pages. Written by Australian and international authors these stories explore Australian culture — sometimes funny, often poignant, occasionally unsettling, this anthology showcases the best of Australian contemporary short story writing.
32 published stories. One e-book and printed anthology, A Nice Boy
Edited by David Vernon, e-book and paperback, Stringybark Publishing,
ISBN: 978-0-9925759-7-7
$14.95 includes postage within Australia. Discounts for multiple purchases. Please enquire for international orders.
Purchase E-book ($3.95 AUD)

THIRD PRIZE
The Boy in the Beanie
by
Margaret Brennan
FIRST PRIZE
A Nice Boy
by
Pauline Sorensen
SECOND PRIZE
As the Dust Settled
by
Deanne Seigle-Buyat
HIGHLY COMMENDED
Oscar Levits and the Human Tower of Tarragona — Greg Bartlett
Storm Clouds — Linda Brandon
Frankie's Place — Holly Bruce
Gun Down a Granny — Jan Bruce
Freedom of Thought — Alyce Caswell
The Transformation of Mrs Keets — Gabrielle Gardner
The Brush — Rebecca Handler
Masterchef — Carolyn Hine
The Weekend Warrior — Kym Iliff-Reynolds
Butterfly Tears — Pamela Jeffs
Buried — Colleen Kerr
The Way Light Bends — Eleanor Kirk
Prelude to Carrion — George Lancaster
Of Creatures and Cans — Ruth Macaulay
Monologue from Manus — Meg Main
Nothing Before, Only After — Kelly Matsuura
The Moment — Margot Ogilvie
The Mad Bomber of Green Island — Ray Penny
Croissants on Sunday — Sallie Ramsay
A Night to Remember — Helen Rogan
The Haul — Marisa Saltis
Nerve Endings — Deanne Seigle-Buyat
Letter to My Yesterday — Karyn Sepulveda
Hillgrove Postbox — Juliet Staveley
Remembering Cara — Alison Thompson
Please, Can I stay a Child? — Kerri Turner
The Piano — Vickie Walker
Boy, Girl, Boy, Girl and Me — Michael Wilkinson
Bennelong Point — Bob Wright