Stringybark Erotic Fiction Story Award 2023
RESULTS

The Stringybark Future Times Award
THIRD PRIZE
The Watcher
by
Elizabeth Walker
SECOND PRIZE
Second Code on the Post-It Note
by
J.C. Howard
FIRST PRIZE
A Tick Tock Heart
by
Disapol Savetsila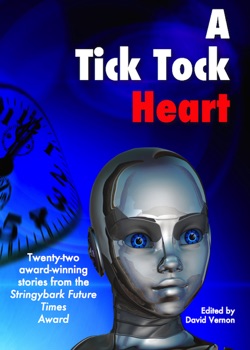 She moves to the window and watches the moon rise, a blood-orange ball balanced on the horizon, illuminating the place where the track first appears. Once, this track had been kept graded for the armies of tourists in their four-wheel-drives, but the tourists don't come anymore; the fuel is too precious and the wet seasons too long lasting to make it feasible to repair the roads. It is only possible to approach by hovercopter or on foot. The breeders always come on foot.
— from 'No Bigger than my Thumb' by Beverley Lello
Twenty-two award-winning short stories from the Stringybark Future Times Awards will propel you into a world beyond 2020. These stories will delight and intrigue you in this anthology of clever tales from Australian and international authors.
HIGHLY COMMENDED
Meet the Martians — Jessie Ansons • Robomantic — Richard Baker • Fly Away — Saffron Bryant • The Collector — Hayley Coombes • Out of the Beans — Peter Court • Not Quite Normal — Amy de Jong • Fallible — Lucas Grainger-Brown • Not Much has Changed — Shannon Hayes • Breaking Light — J.C. Howard • Survivors — Pippa Kay • Whose Country — Rusel Last • The Secret Keepers — Sean Quentin Lee • No Bigger than my Thumb — Beverley Lello • The Last Black Rhinoceros — Beth Merindah • Letter to the Minister — Bruce Olive • Sleeper — Samira Peera • Face of the Future — Susan K Sutherland • The Appointment — Valerie Volk • Statistically Speaking — Michael Wilkinson
Competition Closed: 13 Apr 2014
98 entries. $810 in prizes.
Judges: Colin Campbell, Fleur Joyce, Ruth Ellison and David Vernon
Editor: David Vernon
Proof-reader: Aislinn Batstone
Cover designer: David Vernon
Cover artist: David Vernon
Australian printer: Kainos Print, Canberra
22 published stories. One e-book and printed anthology, A Tick Tock Heart
edited by David Vernon, e-book and paperback, Stringybark Publishing,
ISBN: 978-0-9875239-7-6
$14.95 includes postage within Australia. Discounts for multiple purchases.
Purchase E-book ($3.95 AUD)