Stringybark Erotic Fiction Story Award 2023
CLOSED

The Stringybark Speculative Fiction Award
THIRD PRIZE
Later Than You Think
by
Pat Davies
SECOND PRIZE
To Be or Not to Be
by
Susan May
FIRST PRIZE
A Visit from the Duchess
by
Janeen Samuel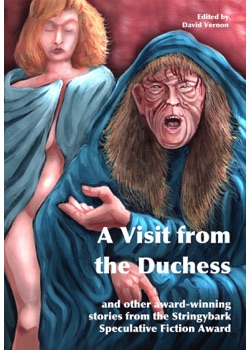 "Do you know who I am?" rasps the man.
"Indeed, Mr Dakamos. Everyone up here has followed your career with interest."
"Then you know what I have achieved. I have united the six continents with blood and fire! I have torn down the idols of the old kingdoms, and raised the standard of Gothog atop every hill."
"Marvellous," you murmur, subtly moving your ice-cherry mug a safe distance from his agitated hands.
(from The Historian by Jack Nicholls).
Science fiction, fantasy, horror and the occasional zombie can be found in these twenty-eight wickedly clever speculative fiction stories written by both Australian and international authors. Chosen by Ruth Ellison, Russell Schneider and David Vernon, these are the best of the entries in the Stringybark Speculative Fiction Awards.
HIGHLY COMMENDED
Brunhilde — Mike Berlin • Tiffany — Mike Berlin • The Goldilocks Planet — Kerry Cameron • Don't Fear the Reaper— Amy de Jong • Master of Light — Amy de Jong • A Rose by Any Other Name — Jo Eberhardt • He Kindly Stopped For Me — Alice Godwin • Labyrinth — Ken Gratton • Uncovered— Ken Gratton • The Entomologist's Wife — Julie Jay • At the End of the Day — Elsie Johnstone • Enduring Entropy — K. Alan Leitch • Brenda's Wish — Richard Marman • Mr. Stan — David Mateyka • The Soul Hunter— Jody Moller • The Historian — Jack Nicholls • Voices — John Sharp • Shades of Sienna— Rebecca Raisin • The Leitz — Janeen Samuel • Breakthrough — Zena Shapter • Confessions of Sunday-53 — Josephine Smith • Cul-de-Sac — Daan Spijer • The Veteran — Andrew Tildesley • End Days — Frances Warren • The Ago — Frances Warren
Competition Closed: 30th May 2011
77 entries. $515 in prizes.
Judges: Ruth Ellison, Russell Schneider and David Vernon
Editor: David Vernon
Proof-reader: Barbara Vernon
Cover designer: David Vernon
Cover artist: Gregory Blake
Australian printer: Digital Print Australia (Adelaide)
28 published stories. One printed anthology, A Visit from the Duchess and one e-book.
edited by David Vernon, 162pp, paperback
Stringybark Publishing ISBN: 9780987092243
$15.95 $12.95 includes postage within Australia.
Discounts for multiple purchases.
Purchase E-book ($3.95 AUD)