Stringybark Erotic Fiction Award 2023
OPENS 20 JUNE

The Stringybark Erotic Short Fiction Award
THIRD PRIZE
Make Believe
by
Robin Storey
SECOND PRIZE
The Vibrator
by
Derek Wayne
FIRST PRIZE
Hangman's Blood
by
Maria Bonar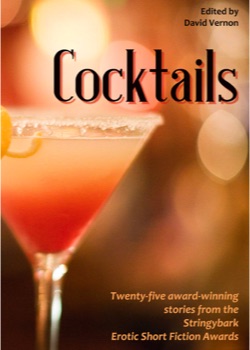 All she could see was darkness. A thick length of fabric had stolen her sight. Without her vision, her heart fluttered. Every single sensation was so much more acute. The battering of the rain outside was riotous. Her inner temperature had risen several degrees and she could feel it radiating out from her trembling body. Every last shred of clothing had been stripped from her, right down to her socks. Her skin prickled as the air caressed every inch of her skin. With the blindfold on, it was impossible not to focus on the sensations that remained.
— from Kiss in the Dark by Adam Ipsen
Inspired by the names of cocktails, twenty-five award-winning short stories from the Stringybark Erotic Short Fiction Awards, will delight you in this sensual, sexy and entertaining anthology by Australian and international short story writers. Contains twenty-five cocktail recipes.
HIGHLY COMMENDED
Snow Ball — Jim Baker • Screaming Orgasm — Maria Bonar • Dark and Stormy — Danielle Chedid • Soixante-Neuf — Julie Davies • White Russian — Julie Davies • The Buzzer — Bernadette Frances • Kiss in the Dark — Adam Ipsen • Adios Motherfucker — Michelle Irwin • Lychee Martini — Dusty Lane • Harvey Wallbanger — Meg Main • After Dark — Claire Martijn • Deep Dark Secret — Claire Martijn • No Regrets — Sorcha Ni Mhaolmhuaidh • Water from the River Ganges — Rowena Michel • In the Saddle — R.L. Phoenix • Japanese Slipper — Jen Proctor • Mermaid — Josh Redman • Hot Carl Msagro — Diana Thurbon • Dusty Rose — Shane von Liger • Firefly — Michael Wilkinson • Satin Sheets — Michael Wilkinson • Red Lotus — Samira Wyld
Competition Closed: 5 Oct 2014
130 entries. $860 in prizes.
Judges: Tessa King, Arna Walker, Jamie Todling and David Vernon
Editor: David Vernon
Proof-reader: Aislinn Batstone
Cover designer: David Vernon
Cover photographer: Thomas Hawk
Australian printer: Kainos Print, Canberra
25 published stories. One e-book and printed anthology, Cocktails
Edited by David Vernon, e-book and paperback, Stringybark Publishing,
ISBN: 978-0-9925759-0-8
$14.95 includes postage within Australia. Discounts for multiple purchases.
Purchase E-book ($3.95 AUD)