Stringybark Erotic Fiction Story Award 2023
RESULTS

The Stringybark Young Adult Short Fiction Award
THIRD PRIZE
Logic
by
Michael Wilkinson
SECOND PRIZE
Fisherman's Friend
by
Holly Bruce
FIRST PRIZE
Fight or Flight
by
Dzintra Boyd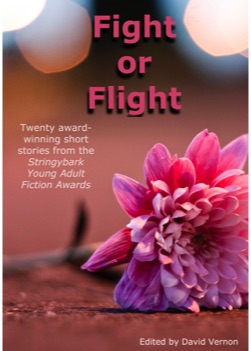 Meg works her way down into her new sleeping bag and smiles to herself. It was a good find. She found it in the Salvos. Someone must have given it to them because the zip broke, but it's fine. Not as good as the doona on her bed at home, maybe, but fine all the same. She is safe here.
She giggles at that thought. Most people would think home would be safer than the streets by a long way. They'd be wrong. Here she has Jack lying beside her, rolled up in his blanket. He won't let anything bad happen to her, here on the street, in the shop doorway. He's a barrier between her and the late night crowds. A couple of teenagers stop to look at them, whispering to each other. "Nah," one says. "Nothing worth taking." And they move on.
— From The Scream by Jackie Tritt
Twenty award-winning short stories from the Stringybark Young Adult Short Fiction Award showcase some of the best contemporary YA authors writing today. From sharks and skateboards to religion and romance, these stories illustrate the breadth and depth of what interests today's teenagers. Chosen by Georgia Crocker, Kerry Johnstone, David Vernon and Michael Vernon.
HIGHLY COMMENDED
Under the Same Sky — Dalankar • The Fear of Flying Salmon — Pete Court • Teeth Marks — Aleesah Darlison • Mendel's Coffee House — Amy de Jong • The Creeping Darkness — Amy de Jong • Short Cut — Jacqui Halpin • Bat on a Stick — Angie Holst • Across the Ocean — Becky Hunter • Shelby and Darcy — Elizabeth Marsh • The Next Big Thing — Rosemary Perry • Will o' the Wisp — Raelene Purtill • McIntryre's Beach — Chris Ringrose • The Scream — Jackie Tritt • Scars — Jemma van de Nes • Lucky Number — Jemma van de Nes • Sucker Punch — Chris Westlake • Focus — Michael Wilkinson
Competition Closed: 13th January 2013
101 entries. $770 in prizes.
Judges: Georgia Crocker, Kerry Johnstone, Michael Vernon and David Vernon
Editor: David Vernon
Proof-reader: Jeanette Vernon
Cover designer: David Vernon
Cover photographer: Rob Bridge
Australian printer: Kainos Print (Canberra/Sydney)
20 published stories. One e-book and printed anthology, Fight or Flight.
edited by David Vernon, e-book (available now) — and paperback, Stringybark Publishing,
ISBN: 978-0-9872558-8-4
A$14.95 includes postage within Australia. Discounts for multiple purchases.
Purchase E-book ($3.95 AUD)