Stringybark Erotic Fiction Story Award 2023
CLOSED

The Stringybark Seven Deadly Sins Award 2017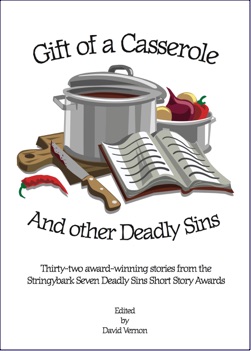 Competition Closed: 23 April 2017
174 entries. $1085 in prizes.
Judges: Zena Shapter, Julia Robertson, Graham Miller and David Vernon
Editor: David Vernon
Cover designer: Michael Vernon
Ausralian printer: Kainos Print
I never thought pinking-shears would be sharp enough to kill someone.
But then I didn't expect to find a dead body in my sewing room either. A very dead body. I knew this because of the circle of wine-black blood.
A man without trousers.
— From "Not With the Good Scissors" by Barb Ettridge
Danny stared through the glass at the young, voluptuous woman, her turquoise bikini luminous in the subdued street lighting. A gaggle of men formed a half-circle outside the window in Amsterdam's red-light district. Danny's bestie, Si, egged him on.
"Go on, Dan, she's the one. Look at those tits, dude!"
Danny's heart sank. Why had he agreed to have his stag do in Amsterdam?
— From "Caged Birds" by Susan Carey
Lust, envy, greed, wrath, sloth, gluttony and pride. What a collection of sins to make the heart beat faster. This is the second anthology of short stories we have published that explores these dark human motivations. Here we present to you the thirty highly commended and three prize-winning stories from the Stringybark Seven Deadly Sins Award 2017.
32 published stories. One e-book and printed anthology, Gift of a Casserole and other Deadly Sins
Edited by David Vernon, e-book and paperback, Stringybark Publishing,
ISBN: 978-0-9925759-9-1
$14.95 includes postage within Australia. Discounts for multiple purchases. Please enquire for international orders.
Purchase E-book ($3.95 AUD)

THIRD PRIZE
If it Don't Fit, Don't Corset
by
Penny Gibson
FIRST PRIZE
Gift of a Casserole
by
Eugenie Pusenjak
SECOND PRIZE
The Revolution of You
by
Cam Dang
HIGHLY COMMENDED
Kit Kat's Revenge — Donna Lee Austin
Sinner — Irene Buckler
The Wages of Sloth — Laura Campbell
A Black Friday — Anthony Coorey
A Matter of Taste — Graham D'Elboux
Casting Stones — David Day
The Book Club — Howard Englander
Not with the Good Scissors — Barb Ettridge
The Fall — Chris Faassen
Bad Seed — Gabrielle Gardner
Everything — Jordan Hagedon
The Croc Hunter — Cassie Hamer
Six Inches — Harry Huang
The Death of Mrs Book-Book — Kym Iliff-Reynolds
Chocolate Biscuits — Stephen Knox
Eternal Dreams — Tyler McPherson
The Scarlet Dress — Mary Ann Napper
Hot Slick of Sin — Nikki Reid
The Rime of the Ancient Sex Tourist — Steve Rhodes
Petronella — Phillip Richards
Play Big to Win Big — D.H. Mamet
Seven Sins Seven Gears — John William Smithwick
Future Past — Anne Tavares
Under the Canopy of a Fig Tree — Darcy-Lee Tindale
Cake — Darcy-Lee Tindale
Dirty Old Man — Michael Wilkinson
Caged Birds — Angela Williams
Stupid Idea — Paula Wilson
How Haught Are You? — Alan Wolfe
Stepsister — Annie Xinyuan Zhang