Stringybark Erotic Fiction Story Award 2023
RESULTS

THIRD PRIZE
Sussex Street Skins, 1986
by
James Angus Bond
The Stringybark Times Past Short Story Award 2016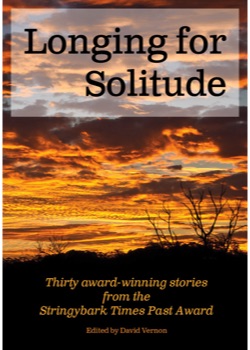 FIRST PRIZE
Longing for Solitude
by
Richard Harvie
"Commandant Patrick Logan, that bloody, cruel man, was alone. Alone at last. Beautifully and thoroughly alone. Alone in that empty heat-shimmering land that stretched endlessly and emptily away from him, drawing him ever onwards into its embrace, gently leading him away from a people he could hardly call his anymore. A soul and body scarred by war and heavy responsibility bore grim testimony to the fruits of loyalty and service."
— from "Longing for Solitude" by Richard Harvie
Thirty award-winning stories fill this entertaining book. Written by Australian and international authors these stories explore Australian history from the arrival of the British to contemporary events. Each story is based upon a real episode in Australia's past. There is no better way to discover that history is not dead kings and queens and musty, dusty collections of forgettable dates. These award-winning stories bring history to life.
HIGHLY COMMENDED
Barley Water and Condensed Milk — Michael Wilkinson • Captain Martin's Elephant — Robin Archbold • An Aislings Beach Tragedy — Kathryn Vincent • Black Mist — David Slade • Dawn's Icy Fingers — Vickie Walker • The Murder of Owen Owens — Christine Childs • Thallium and Cupcakes — Gillian Brown • Second Chance — Debra Booth • The Cuts — Warwick Newnham • The Four-eyed God — Sally Rhyanen • Swimming the Mob — Rebecca Byrne • Petrov's Wife — Jenny Peters • Do Ghosts Have Freckles? — Kathy Childs • The Spotter's Sketch — Greg Bartlett • I'm not Trim — Margot Ogilvie • Click Go the Shears — Anne Tavares • The Stripper — Alex Reece Abbott • First Flight — Stephen Knox • Against the Order of Nature — Michael Wilkinson • Myall Creek — Megan Wallens • A Far Place — Linda Ruth Brooks • Collision Course — Linda Brandon • Dave and Doug Went to War — Eileen M Williams • Released — Kym Iliff-Reynolds • It's Just Not Cricket — Julie Davies • The Square Tin — Roger Wheatley
Competition Closed: 31 July 2016
83 entries. $1024 in prizes.
Judges:Maree Teychenné, Bradley Baker, Rees Campbell and David Vernon
Editor: David Vernon
Cover designer: Michael Vernon
Cover photographer: Sandid
Ausralian printer: Kainos Print
30 published stories. One e-book and printed anthology, Longing for Solitude
Edited by David Vernon, e-book and paperback, Stringybark Publishing,
ISBN: 978-0-9925759-5-3
$14.95 includes postage within Australia. Discounts for multiple purchases. Please enquire for international orders.
Purchase E-book ($3.95 AUD)

SECOND PRIZE
Allied Warship, Enemy Aircraft
by
Pamela Jeffs
The Long Straw
by
Eugenie Pusenjak