Stringybark Erotic Fiction Award 2023
OPENS 20 JUNE

The Stringybark Malicious Mysteries Short Story Award
SECOND PRIZE
Show, Don't Tell
by
Susan K Sutherland
FIRST PRIZE
Killer Instinct
by
Kerry Cameron
The Sins of the Fathers
by
Sallie Ramsay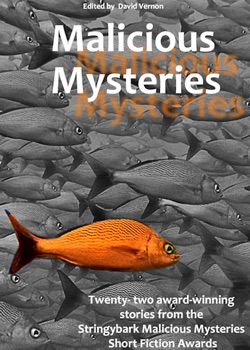 It took a long, dirty hour to clean him up. It took a full fifteen minutes just to ease the twigs and leaves from his matted hair and another fifteen to gently pull out the small thorns and prickles that were stuck in his hands and feet. On the verandah they filled a metal tub with warm, soapy water and encouraged the boy in by adding a plastic duck to the bubbles. The men looked at each other, shaking their heads and half smiling as the boy, naked from the outset, climbed in.
— From Boy by Tania Favazza
Murder most foul. Ghostly images. A stumped detective. Lost treasure. An icy poltergeist. A lost boy. A skilled taxidermist. They are all here in this malicious collection of mysterious short stories from the Stringybark Malicious Mystery Short Story Awards. Twenty-two award-winning tales that will chill your bones and delight your senses are showcased here for your shivery delight.
HIGHLY COMMENDED
Forever Yours — Lesley Adams • Saving Alf — Juliet Blair • Murder, Mayhem and Mystery Inc — David Campbell • Class Reunion — Patricia Cation • In Ruins — Peter Court • Send in the Clowns — Vicky Daddo • Redemption — Graham D'Elboux • Boy — Tania Favazza • The Way It's Always Been — A.K. Guthrie • Saint Saturnin — Jane Hendy • A Bird's Eye View — Pippa Kay • Stinky Creek — Pippa Kay • Death Trap — Stephen Knox • Separation — Stephen Knox • Olivia — Katerina Protopsaltis • Bewitched by Blue Eyes — Airi Repetti • Give Me Your Hand — Charlotte Soares • Pumpkin Scones — Susan K Sutherland • The Silver Stiletto — Su White
Competition Closed: 20th October 2013
101 entries. $810 in prizes.
Judges: Maree Teychenné, Antoinette Merrillees, Rick Williams and David Vernon
Editor: David Vernon
Proof-reader: Aislinn Batstone
Cover designer: David Vernon
Cover photographer: Richard Tring
Australian printer: Printstant, Canberra
22 published stories. One e-book and printed anthology, Malicious Mysteries
edited by David Vernon, e-book and paperback, Stringybark Publishing,
ISBN: 978-0-9875239-5-2
$14.95 includes postage within Australia. Discounts for multiple purchases.
Purchase E-book ($3.95 AUD)