Stringybark Erotic Fiction Story Award 2023
RESULTS

The Stringybark Australian History Short Story Award
THIRD PRIZE
The Woman at the Back of the Room
by
JB Rowley
SECOND PRIZE
Footsteps in the Dark
by
Elsie Johnstone
FIRST PRIZE
Marngrook
by
Sean Quentin Lee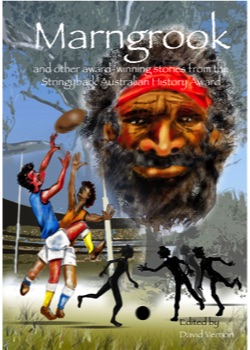 "People don't understand how desperate you have to be to eat a boot," he replied. "Exploration of uncharted territory is very demanding, especially in the arctic. They don't realise what we went through: the bitter cold, the scurvy, the unknown. Men died of starvation out there; they did desperate things. These were good men reduced to scraping moss from rocks to survive. Yes, we ate boot leather as well, but it was an act of desperation, a last ditch attempt at survival. They act like I ate my boots as a matter of choice."
— from Act of Defiance by Harold Mally
Twenty-six award-winning short stories vividly bring Australian history to life, in this anthology from both established and new writers. Chosen by Gregory Blake, Jamie Hodder, Nadine Smith and David Vernon, Australian history has never been more interestingly and entertainingly presented.
HIGHLY COMMENDED
Encounter — Laurence de B Anderson • Donald Charles at Ziza — Anne Atkinson • Badu Boys Rule! — Dianne Bates • Bush Hero — Dianne Bates • Beechworth — Thea Biesheuval • Retribution — Kate Komoll • Remembrance Day — Julie Davies • Upon the Flat — Julian Howard • Water Rights — Kate King • A Bouquet of Lettuces — Beverley Lello • To My Sister, Hessie Burke — Beverley Lello • The Death of Beatrice • Mayhew — Janet Lowe • Act of Defiance — Harold Mally • Elsewhere — Rosalind Moran • Deportation — Carol Price • The Ace of Spades — Peter Rondel • Kamilaroi Country — Wendy Seddon • Fire — Frank Stubbs • The Cat — Frank Stubbs • New World — Valerie Volk • On Mercy, Justice and Redemption — Frances Warren • The Bunyip Hunter — Michelle Williams • Blow for Blow — Ted Witham
Competition Closed: 21st October 2011
117 entries. $520 in prizes.
Judges: Gregory Blake, Jamie Hodder, Nadine Smith and David Vernon
Editor: David Vernon
Proof-readers: Kate Copeland and Elena Callipari
Cover designer: David Vernon
Cover artist: Richard Marman
Australian printer: Kainos Print (Canberra/Sydney)
26 published stories. One printed anthology, Marngrook and one e-book.
edited by David Vernon, 142 pages, paperback and e-book
Stringybark Publishing, ISBN: 978-0-9870922-8-1
$11.95 includes postage within Australia.
Discounts for multiple purchases.
Purchase E-book ($3.95 AUD)