Stringybark Erotic Fiction Award 2023
OPENS 20 JUNE

The Stringybark Short Story Award
THIRD PRIZE
Disappearing
by
Holly Bruce
SECOND PRIZE
Shoo
by
Darcy-Lee Tindale
FIRST PRIZE
No Tea Tomorrow
by
Kathy Childs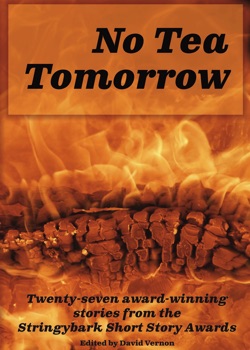 As Paddy wiped the sweat from his forehead with a grubby rag, he caught a movement from the corner of his eye. Squinting into the bush, he could see two huge brown eyes peering at him. One of the local Aboriginal kids, he guessed. They were always hanging about the diggings looking for something to pinch.
"Be off with ye!" shouted Paddy and chucked a rock or two into the bush for good measure. But his heart wasn't really in it. It was too hot to be angry and any wasted movement just made him hotter.
— from Karikurla by Alene Ivey
Twenty-seven award-winning short stories from the Stringybark Short Story Awards, will challenge, amuse and entertain you in this anthology of Australian themed stories by Australian and international short story writers.
HIGHLY COMMENDED
Sunday Paella — Bradley J Baker • Litany of Sounds — Muriel Bolger • Honest Abe — Kathy Childs • Scoop — Norm Cowper • Ghost Zero — Barb Ettridge • Dad's Long Hose — Kate Shelley Gilbert
• Watercolour — Leonard Goulds • Karikurla — Alene Ivey • Cheap Flights — Stephen Knox • Rituals — Nina Lee • Storm Warnings — Margaret Leggatt • Being Who You Are — Roger Leigh • Next — Brendan Murray • Silent Strangers — I.N. Murray • A Matter of Reverence — Margaret Pearce • The Passenger — C.R. (Ray) Penny • Buruma — R.L. Phoenix • Salvatore's Suitcase — John Poole • Visit to the Beach — Margie Riley • Dropping Pebbles — Finlae Rose • The Survivor — D. C. Ross • Seeing Tibooburra — Joanne Ruppin • Where Angels Dwell — Peter Smallwood • Perhaps Tomorrow — Allan Sykes
Competition Closed: 18 Jan 2014
230 entries. $860 in prizes.
Judges: Kerry Johnstone, Dr Andrew Perry and David Vernon
Editor: David Vernon
Proof-reader: Frances Underwood
Cover designer: David Vernon
Cover photographer: Pixabay
Australian printer: Kainos Print, Canberra
27 published stories. One e-book and printed anthology, No Tea Tomorrow
Edited by David Vernon, e-book and paperback, Stringybark Publishing,
ISBN: 978-0-9925759-1-5
$14.95 includes postage within Australia. Discounts for multiple purchases.
Purchase E-book ($3.95 AUD)