Stringybark Erotic Fiction Story Award 2023
CLOSED

The Stringybark Travellers' Tales Award
THIRD PRIZE
Close Encounter of the Fourth Kind
by
Julie Davies
SECOND PRIZE
Ernesto's Beans
by
Bradley Baker
FIRST PRIZE
Non Posso
by
Gerald Vinestock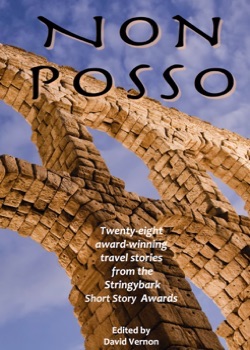 Labouring up the massive cinder cone of the active volcano on Vanuatu's Tanna Island was a memorable event, not least because our young Melanesian guide wore nothing but a penis sheath and a smile. As we walked behind him, the women in the group gazed at his bare buttocks dusted with tight, peppercorn curls, grinning at each other and wiggling our eyebrows. We did occasionally look upward as Mt Yasur spewed out lava and boulders the size of small cars, but he managed to focus our attention on something other than the imminent danger of liquefaction or crushing. There are few health and safety regulations in the third world, although I suppose penis sheaths could be classified as Personal Protective Equipment.
— from "Close Encounter of the Fourth Kind" by Julie Davies
Twenty-eight award-winning travel stories from the Stringybark Short Story Awards, will take you on adventures to far-flung continents. They will amuse and entertain you in this anthology of travel themed tales by Australian and international short story writers.
HIGHLY COMMENDED
Like a Penguin — Maureen Brew • Nomads — Pauline Mary Curley • The Redeemer — Graham D'Elboux • Sticky Dates — Rebecca Dowd • Bonsai — Liza Dezfouli • Mukachevo on $5000 a Day — Howard Englander • The Last Night — Grace Ford • How (Not) to Climb a Mountain — Matthew Griffiths • Guilt Whispers in My Ear — Bronwyn Hale • An Unpredictable Land — Paula Henriksen • The White Desert — Alene Ivey • The Meltemi — Pippa Kay • Hammam… an Experience in Full — Debbie Kaye • Riders on the Storm — Denise Krklec • The Beauty of a Detour — Ann Kronwald • Mist, Moss and Mountains — Beverley Lello • The Trap — Mac Laniards • Children's Hands — Helen Lyne • Ancestral Travel — Carol Price • A 5,000 Baht Bowl of Noodles — Stephen Rhodes • Flying into the Past — Peter Smallwood • A Field of Their Own — Karenlee Thompson • Foreign Friend — Gayle Virgo • Let's Try the Bar — Kerry Lown Whalen • Ghosts? Pah! — Michael Wilkinson
Competition Closed: 3 May 2015
104 entries. $809 in prizes.
Judges: Antoinette Merrillees, Julia Robertson, Marguerite Perkins and David Vernon
Editor: David Vernon
Proof-reader: Frances Underwood
Cover designer: David Vernon
Cover photographer: David Corral Gadea
Australian printer: Kainos Print, Canberra
28 published stories. One e-book and printed anthology, Non Posso
Edited by David Vernon, e-book and
paperback, Stringybark Publishing,
ISBN: 978-0-9925759-2-2
$14.95 includes postage within Australia.
Discounts for multiple purchases.
Purchase E-book ($3.95 AUD)