Stringybark Erotic Fiction Story Award 2023
CLOSED

The Stringybark Malicious Mysteries Award 2018
Competition Closed: 5 November 2017
123 entries. $1085 in prizes.
Judges: Marguerite Perkins, Maree Teychenné , Jamie Todling and David Vernon
Editor: David Vernon
Cover designer: Michael Vernon
Ausralian printer: Kainos Print
From murder and mayhem to ghosts and grave-diggers (oh, and that strange succubus that just happens to slip into your life when you aren't looking), Red Gold is an anthology of twenty-seven award-winning tales from the Stringybark Malicious Mystery Short Story Awards. Read them if you dare!
Martin concentrated on her mouth. It was safer that way. Eyes could detect his innermost thoughts and he hated that. So he avoided the eyes and watched her lips, imagining the tongue nestling over the sublingual gland, the saliva erupting into her mouth… - from 'A Place in the Heart' by David Campbell
He hunched over the bed, so close, nearly touching Lauren as she slept. The sweat on his bare upper body glowed faintly red in the gleam from the stand-by light of the small television on top of the bookcase. Lauren murmured and turned onto her back, unaware of the bent figure closing in on her lips. His breath could have stirred her hair but his pose was static; no breath, no twitch of a muscle, no animation. The figure exhibited no life but his image shivered, perhaps in anticipation of the inevitable contact with Lauren's teenage body.
- from 'Night Moves' by Lyn Brandon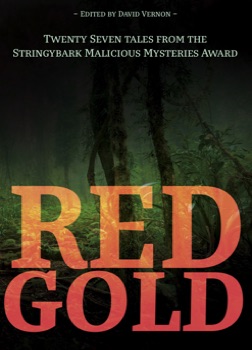 27 published stories. One e-book and printed anthology, Red Gold
Edited by David Vernon, e-book and paperback, Stringybark Publishing,
ISBN: 978-0-6480884-3-1
A$14.95 includes postage within Australia. Discounts for multiple purchases. Please enquire for international orders.
Purchase E-book ($3.95 AUD)

THIRD PRIZE
Leg of Frog, Eye of Newt
by
Kym Iliff-Reynolds
FIRST PRIZE
Red Gold
by
Kerry Cameron
SECOND PRIZE
The Witch
by
Tee Linden
HIGHLY COMMENDED
Recluse Bay: The View to Die For — Anne D. Arthurs
Wally's Story — John Bauer
Night Moves — Lyn Brandon
Old Twisty — Beverley Butcher
A Place in the Heart — David Campbell
Home Visits — Patricia Cation
No Sugar for Pills — Cam Dang
Fetch — C.L. Fulton
The Toy Maker — Jason Hemens
Little White Lies — Deidre Le Sueur
Turning Point — Grahame Maclean
A Mug's Game — Gordon McPherson
Unravelled — Amanda Molyneaux
The Killing — Jon Presswell
The Death of Francis Bakersfield — Eugenie Pusenjak
Golden Rings — Nikki Reid
Beneath the Heat — Deanne Seigle-Buyat
Maryanne — Kay Spencer
The Perfect Job — Robin Storey
Malicious Murphies — Wendy Swarbrick
The Lesson in the Lens — Nicola Wardley
The Parcel for Number 66 — Mick Wiley
Turn — Jacqueline Winn
The Gravedigger — Merinda Young