Stringybark Erotic Fiction Story Award 2023
CLOSED

The Twisted Stringybark Short Story Award
THIRD PRIZE
War Wounds
by
Michael Kelly
SECOND PRIZE
Trifles Light as Air
by
Anna Mae Kaine
FIRST PRIZE
The Role of a Lifetime
by
Pauline Sorensen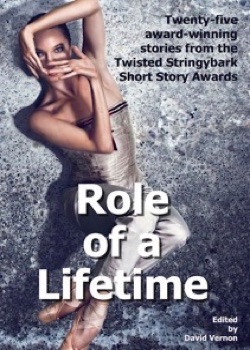 She moved slowly, unsure of herself; self-conscious of his gaze, and her own anxieties; are my breasts too small? Is my bum big enough? So many images of what her femininity could or should look like flashed against her own images of herself. Clichés of 'what-it-means-to-be-truly-naked' tend to be irrelevant when undressing outside the sanctuary of your own room, your own mirror and outside your own thoughts that maybe your ass is looking nice today.
— from 'First Times' by Rashad Brathwaite
Twenty-five award-winning short stories from the Twisted Stringybark Short Story Awards will intrigue and delight you in this anthology of twisted tales from Australian and international short story writers.
HIGHLY COMMENDED
Sunbird Story — Fiona Bell • To Smell a Rat — Juliet Blair • First Times… — Rashad Brathwaite • Become What You Are — Holly Bruce • A Hand's Clasp — Norm Cowper • The Speech — Ella de Rooij • Obsession — Gabrielle Gardner • The Fight to Stay Awake — Jodyne Greig • Drug Heaven — Simon James • Peter the Orphan — Debbie Kaye • That's Amore — Trudy Parry • Menace on Manus — Nola Passmore • The Awakening — Sonali Patel • Vulnerable — Jenny Peters • Living the Dream — John Poole • Miss Hope's Gift — John Poole • Beach Ball — Pia Riley • A Charming Neighbour — JB Rowley • Under the Bed — Joanne Ruppin • The White Gum Tree — Bradley Ryan • Blinkered — Nick Tostevin • Nuclear Medicine — Kerry Lown Whalen
Competition Closed: 29 Jun 2014
183 entries. $810 in prizes.
Judges: Barry O'Farrell, Marguerite Perkins, Julia Robertson and David Vernon
Editor: David Vernon
Proof-reader: Aislinn Batstone
Cover designer: David Vernon
Cover artist: Carl Thorborg
Australian printer: Kainos Print, Canberra
25 published stories. One e-book and printed anthology, Role of a Lifetime
edited by David Vernon, e-book and paperback, Stringybark Publishing,
ISBN: 978-0-9875239-9-0
$14.95 includes postage within Australia. Discounts for multiple purchases.
Purchase E-book ($3.95 AUD)