Stringybark Erotic Fiction Story Award 2023
RESULTS

The Stringybark Short Story Award
THIRD PRIZE
What Will You Do in Retirement?
by
Janice Williams
SECOND PRIZE
Belly
by
C.R. (Ray) Penny
FIRST PRIZE
Side by Side
by
Pauline Cleary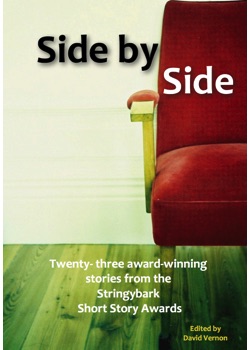 When you're a kid you live in your own world, a world separate from everything else. When you're a kid a dead branch is anything but a dead branch. It's a sword, a cricket bat, or even a flying broomstick; it's whatever you need it to be. For most people their childhood world slowly fades as they get older and one day between jumping to avoid the cracks in the footpath and asking to borrow their parent's car keys they look down and realise they're holding a dead branch instead of a light-sabre. But sometimes, childhood worlds don't fade, they shatter.
— from Beneath the Wheat by Iain Murray
Dennis glanced at the sun peeping above the horizon and slowly rubbed his eyes. It had been a restless night, tossing and turning, and finally waking to find the pillow on the floor, his right foot wedged between the bedside table and the mattress and the sheet around his neck. He had clearly drunk too many drinks last night in celebration. But why? Then it came to him in a rush.
— from The Godfather of Balmain by David Wilkinson
Twenty-three award-winning short stories from the Stringybark Short Story Awards will delight and intrigue you in this anthology of clever tales from Australian and international short story writers.
HIGHLY COMMENDED
Wrapped in Pink — Jessie Ansons • Banking on Gold — Dawn Barr • Cow Dung, Mrs • Oliphant — Aislinn Batstone • The River — Bronwyn Cozens • Now we have the • Crocodiles — Ben Goldfarb • Burying Hortense — Jane Hendy • Eggshells — Colleen Kerr • Cicada Summer — Beverley Lello • Lipstick and Mirrors — Beverley Lello • The Dotted Line — Beverley Lello • Till Death Us Do Part — Pauline McLay • The Jar — Beth Merindah • Beneath the Wheat — Iain Murray • Facing the Music — Devita Pathi • Mahmoud — John Poole • Bushie — Sallie Ramsay • The Ghost and the Gum Tree — Susan K Sutherland • To Begin at the Middle — Maree Teychenné • The Godfather of Balmain — David Wilkinson • Ordinary Lives — Mike Woodhouse
Competition Closed: 19 Jan 2014
212 entries. $810 in prizes.
Judges: Dr Kathie Brown, Dr Andrew Perry, Arna Walker and David Vernon
Editor: David Vernon
Proof-reader: Aislinn Batstone
Cover designer: David Vernon
Cover artist: Bricolage 108
Australian printer: Kainos Print, (Canberra/Sydney)
22 published stories. One e-book and printed anthology, Side by Side
edited by David Vernon, e-book and paperback, Stringybark Publishing,
ISBN: 978-0-9875239-6-9
$14.95 includes postage within Australia. Discounts for multiple purchases.
Purchase E-book ($3.95 AUD)