Stringybark Erotic Fiction Story Award 2023
RESULTS

The Stringybark Times Past Short Fiction Award
THIRD PRIZE
Baby Steps
by
Alexis Hailstones
SECOND PRIZE
Allawah Grove
by
Silda Trainor
FIRST PRIZE
Stew and Sinkers
by
Debra Booth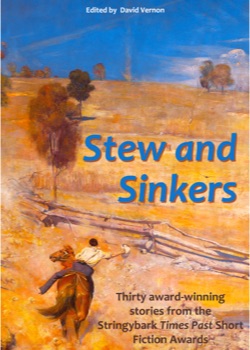 We weren't the church going types but Sally didn't want to get married in a garden. People don't listen in gardens she'd said. Too many distractions with barking dogs and noisy kids. A wedding is an important thing apparently; vows should be absorbed by all guests. Not sure why this is a priority when the guest list boasts the likes of Sally's Aunty Dot with uncontrollable gas and a penchant for yelling out to every passer-by to fetch her a beer. But who was I to question?
— from My Ernest Decision by Kylie Orr
Thirty award-winning short stories from the Stringybark 'Times Past' Short Fiction Awards entertainingly bring Australian history to life. From the first Australian hanging to twenty-first century medical care, these true stories will delight, challenge and intrigue the most demanding reader. Written by some of Australia's best contemporary short story writers, as well as new talent, each tale illuminates a forgotten part of Australia's history.
HIGHLY COMMENDED
Strange Encounter — Jim Baker • The Sleeper Passer — Gary Barber • Bessell's Creek — Jillian Brady • Ursa Major — Kerry Cameron • Motherlines — Melissa Coffey • Prelude to a Dream — Sophie Constable • The Trumpet Call — Peter Cooper • A Pure Soul — Kathryn Errey • Run for Your Life — Shannon Garner • Eleven Candles — Sharon Haste • Shadow Dancing — Pamela Janssen • In Search of Africa — Marie Therese Kay • A Proper Job — Pippa Kay • Woodsreef — Pippa Kay • An Alien Hand — Jenny Kingsford • Justice 1892 — Carmel Lillis • Crossed Out — Rosalind Moran • A Micro Moment of History — Judy O'Connor • Shoes at Oyster Bay — Judy O'Connor • My Ernest Decision — Kylie Orr • The Summer We Moved House — Janeen Samuel • The Fight — Peter Smallwood • Ted Trounson's Kid — Frances Warren • The Paterson Boys — Kerry Lown Whalen • The Drift of the Jenny — Michael Wilkinson • The First Hangman — Michael Wilkinson • Impatient — Samantha Wilson
Competition Closed: 19th January 2014
165 entries. $810 in prizes.
Judges: Fleur Joyce, Margie Perkins, Colin Campbell and David Vernon
Editor: David Vernon
Proof-reader: Aislinn Batstone
Cover designer: David Vernon
Cover artist: Tom Roberts
Australian printer: Printstant, Canberra
30 published stories. One e-book and printed anthology, Stew and Sinkers
edited by David Vernon, e-book and paperback, Stringybark Publishing,
ISBN: 978-0-9875239-3-8
$14.95 includes postage within Australia. Discounts for multiple purchases.
Purchase E-book ($3.95 AUD)