Stringybark Erotic Fiction Story Award 2023
RESULTS

The Ghostly Stringybark Award
THIRD PRIZE
Severed
by
George Lancaster
SECOND PRIZE
Ghost Gum
by
Llewellyn Horgan
FIRST PRIZE
The Wilangarra
by
David Slade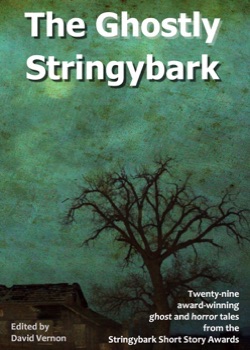 I was conceived by the rock pool where the fish kiss the ripples and the rays of the sun warm the granite outcrop that surrounds it. The rock pool is where my mother bashed my father's brains out. The blood dribbled down — drip drip drip into the rock pool. Swirling and mingling, becoming one with nature. My father wasn't the first person to die there. Mrs Alice Kelly was killed there on her honeymoon. They found her husband in a pool of her blood, a broken wine bottle in his hand, but they never found her.
The locals call it Honeymoon Pool.
— from The Rock Pool by Rachel McEleney
Twenty-nine award-winning ghost and horror stories fill these fear-inspiring pages. From mind-altering medical implants to skeletal dingoes and ghostly women at windows these stories from the Ghostly Stringybark Award, will transport you into a darker realm. Some will terrify, some will horrify and others will make you laugh out loud at the cleverness of the writing by these Australian and international short story writers.
HIGHLY COMMENDED
The Bushwalk — Linda Brandon • Dune-Crawler — Jessica Budin • The Blind Madonna — Christina Cairns • Ghostly Hugh — Kathy Childs • The Woman in the Window — Kathy Childs • Smoke — John Cowell • The Scoreboard — Christine Ferdinands • A Voice through the Fence — Athol Henry • A Song of Love and Death — Patricia J Hughes • Mika — Chris Jones • Swing Low, Sweet Chariot — Pippa Kay • I Can Stand the Despair — Roger Leigh • A Place of One's Own — Belinda Lyons-Lee • Dust to Dust — Benjamin Marie • The Rock Pool — Rachel McEleney • History — Lois Murphy • The Collector's Book — Michael Olive • Beyond — Mona Oliver • Dark Water — Lauren Noelle Rice • Emily's Cottage — Yvonne Saw • Jack Frost — Trudi Slavin • Surveillance — Trudi Slavin • The Shot Tower — Vicki Stevens • I Know What I Hear, Dear Rita! — Maree Teychenné • To Get Away with Murder — Michael Wilkinson • The Unknown Wedding Dress — Sabina Wills
Competition Closed: 16 August 2015
105 entries. $869 in prizes.
Judges: Zena Shapter, Graham Miller, Dr Rick Williams and David Vernon
Editor: David Vernon
Proof-reader: Frances Underwood
Cover designer: David Vernon & Frances Underwood
Cover photographer: Susan Dussaman
Ausralian printer: Kainos Print
29 published stories. One e-book and printed anthology, The Ghostly Stringybark
Edited by David Vernon, e-book and paperback, Stringybark Publishing,
ISBN: 978-0-9925759-3-9
$14.95 includes postage within Australia. Discounts for multiple purchases.
Purchase E-book ($3.95 AUD)