Stringybark Erotic Fiction Award 2023
OPENS 20 JUNE

The Stringybark Erotic Short Fiction Award
THIRD PRIZE
Sergei
by
Michael Wilkinson
SECOND PRIZE
Grease
by
Peter Jason Smith
FIRST PRIZE
The Heat Wave of '76
by
Chris Westlake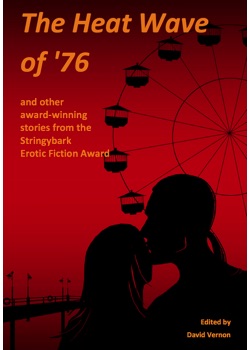 Sergei smiles as he sits down at her head. His lover grasps his long fingers and leisurely runs her tongue over them. His precious fingers! They are in her mouth! With a bite, she could ruin his career. I must intervene. I must! I tense, ready to reveal myself. Sergei smoothly caresses her cheek with his left hand and gently extracts his fingers from her slavering maw. "Ma chérie," he murmurs and has a swallow from his champagne glass. His lover takes a more delicate sip and then their lips touch. She is inhaling his intoxicating aftershave. He is sensing a woman aroused.
— from Sergei by Michael Wilkinson
Twenty-one award-winning erotic short stories, written by both Australian and international authors, are included in this anthology. From the discreet to the explicit, these stories will provide heat on the coldest evening! Chosen by Dr Kathryn Dwan, Dexter Dutton, Fanny Lawrence and David Vernon.
HIGHLY COMMENDED
Yes, Please — Elizabeth g Arthur • Presque Vu — Kerry Cameron • Sofa Sport — Jeff Cott • La Belle Dame Sans Merci (Keats reveals what really happened that day) — Julie Davies • Massage — Dreamer • An Artistic Eye — Allan Mackay • Fairies at the Bottom of the Garden — Marguerite Johnson • Tarts Galore — Artemisia Melidulci • Consumed — Cherie Moss • The War of the Roses — Mardi O'Connor • Culinary Foreplay — Sylvia Petter • Memo from the Great Teaser — Graeme Scott • Brushstrokes — Simone Sinna • The Kids Call it 'Friends with Benefits' — Pauline Sorensen • Moving Day — Peter Jason Smith • A Mermaid's Song — Samantha Stiles • Linkage — Maggie Veness • Walking the Rail — Frances Warren • The Kiss — Michael Wilkinson • The Last Time — Zeca
Competition Closed: 7th August 2011
104 entries.  $515 in prizes.
Judges: Dr Kathryn Dwan, Dextor Dutton, Fanny Lawrence and David Vernon
Editor: David Vernon
Proof-readers: Kate Copeland and Avon Strahle
Cover designer: David Vernon
Cover artist: Kerry Cameron
Australian printer: Kainos Print (Canberra/Sydney)
23 published stories.  One printed anthology, The Heat Wave of '76 and one e-book.
edited by David Vernon, 138pp, paperback and e-book
Stringybark Publishing, ISBN: 9780987092267
Ebook only available
Discounts for multiple purchases.
Purchase E-book ($3.95 AUD)