Stringybark Erotic Fiction Story Award 2023
CLOSED

The Stringybark Short Story Award
THIRD PRIZE
The Strong Boy
by
John Scholz
SECOND PRIZE
About Time
by
Kerry Cameron
FIRST PRIZE
The Road Home
by
Beverley Lello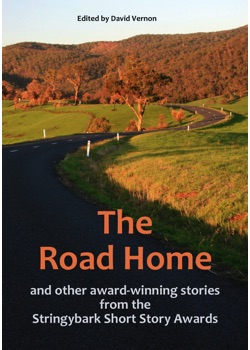 "Is he going to be woofed and poofed like my Pixie?"
"Woof… woof, woofed and p-poofed?"
At Bill's quizzical frown, the child pointed to the dog-grooming salon. "Mum says Pixie costs a fortune to keep smelling and looking nice." A dollop of chocolate liquid fell from the cone onto Tipper's nose. A pale tongue licked it off. "Oh Mister, I'm sorry. He'll get sick. Good thing the animal doctor lives next to the poofing shop."
"Clever thinking young lady, don't… don't worry he'll be-be-be… okay." Bill smothered a chuckle. He didn't feel like laughing although her innocent logic was irresistible. Should've waited in the car, he thought.
— from Top Dog by Barbara Fraser
Thirty-three highly entertaining short stories explore the nature of Australia and the Australian character in this anthology of award-winning stories. Written by established and new writers, each story has been chosen for its unique contribution to Australian literature. Chosen by Gina Meyers, Jill Jolly and David Vernon.
HIGHLY COMMENDED
When the Water Came — Lucy Bignall • Elena — Peter Bishop • Walking in Someone Else's Thongs — Holly Bruce • Therapy — Julie Davies • A Day Like Any Other — Nan Doyle • The Flood — Nan Doyle • The Memory of Roses — Anne Dwyer • Sea Change — Tania Favazza • More Than Rain — Jeanette Fegan • Should've Driven On — Barbara Fraser • Top Dog — Barbara Fraser • Growing In — Liliane Grace • A Living Treasure — Beverley Lello • Tequila and the Big Palamino — Vanessa McKinley • Things to Do Before You Die — Jeanette O'Shea • Hunted — Graham Parks • Mosquito Creek Union — Graham Parks • Point of View — Carol Price • Catching a Ride — John Scholz • Out of Date Stuff — John Scholz • A Confession in Three Parts — Graeme Simsion • Natural Selection — Graeme Simsion • Savoir-faire — Graeme Simsion • Billy — Richard Stone • A Short History of Bell — a small town in South Australia — Myfanwy Tilley • Death on the Bendigo Train — Kim Torney • The Ones Left Behind — Eloise Verlaque • Ten Pounds for Your Thoughts — Chris Westlake • Reflected Fear — Michael Wilkinson • The Joy of Sailing — Michael Wilkinson
Competition Closed: 18th December 2011
94 entries. $520 in prizes.
Judges: Jill Jolly, Gina Meyers and David Vernon
Editor: David Vernon
Proof-readers: Barbara Vernon and Fiona Henry
Cover designer: David Vernon
Cover photographer: Mick Stanic
Australian printer: Kainos Print (Canberra/Sydney)
33 published stories. One printed anthology, The Road Home and one e-book.
edited by David Vernon, 142 pages, paperback and e-book
Stringybark Publishing, ISBN: 978-0-9870922-9-8
e-book only available
Discounts for multiple purchases.
Purchase E-book ($3.95 AUD)