Stringybark Erotic Fiction Story Award 2023
CLOSED

The Stringybark Seven Deadly Sins Short Fiction Award
THIRD PRIZE
What a Gas!
by
Julie Davies
SECOND PRIZE
Eulogy for a Sinner
by
Graeme Simsion
FIRST PRIZE
Seven Deadly Sins
by
William Mildren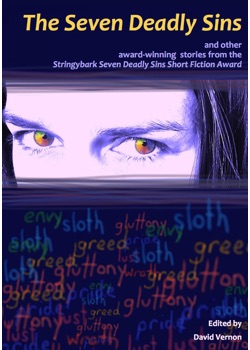 So… you are dead.
Here, in the newspaper, it says there were eight hundred at your funeral. I wasn't there, of course, but can see in my mind the dark-dressed and somber-suited pressed into pews — like the oily anchovies we shared on crusty bread in our lunch breaks long ago.
No doubt it was a fitting send-off for a 'pillar of the community and devout churchgoer.' Did people weep as they eulogized the man who always put la famiglia first? What about my family? Did you ever consider them?
— From Threads by Carolyn Eldridge-Alfonzetti
Thirty-five clever, contemporary and entertaining stories re-imagine Pope Gregory's Seven Deadly Sins. Written by established and emerging short story writers these stories will leave you greedy for more. Chosen by Kathie Brown, Kathryn Dwan, Peter Jolly and David Vernon these are the very best of the entries in the Stringybark Seven Deadly Sins Short Fiction Award.
HIGHLY COMMENDED
Mr Braithwaite Contends — Stephen Atkinson • The Return — Rhonda Bartle • The Making of Xavier — Aislinn Batstone • The Conversion — Nancy Cook • The Seven Squabbling Sins — Catherine Cusack • It's a Rich Man's World — Julie Davies • The Affair — Julie Davies • Threads — Carolyn Eldridge-Alfonzetti • Michelle's Party — Cherryl Fatouros • Nabbed — Otto Fischer • Balls of Fluff — Barbara Fraser • Swallow the Silences — Alex Hendry • Hellz Bakehouse — Janet Lowe • The Greed of Fire — K.M. Lindsay • The Mistake — Tegan Mackenzie • Pull out the Weeds — Amanda Mackinnon • Dead Letters — Pauline McLay • Twiggy — Susannah Petty • True South — Rebecca Raisin • Just a Box — Helen Rogan • The Other Woman — Sam Ryan • A Dear, Dear Friend — Carol Saliba • Peccadilloes — Janeen Samuel • The Bush Concerto — Clare Seligman • The Eighth Sin — Simone Sinna • Primrose Cottage — Rita Swain • Seed — Gerald Vinestock • A Fatal Toy — Rollo Waite • Jake — Anastasia Warmuth • Lake of Fire — Frances Warren • Parsnip Soup — Michael Wilkinson
Competition Closed: 10th June 2012
261 entries. $630 in prizes.
Judges: Dr Kathie Brown, Dr Kathryn Dwan, Peter Jolly and David Vernon
Editor: David Vernon
Proof-reader: Jeanette Vernon
Cover designer: David Vernon
Cover artist: Kerry Cameron
Australian printer: Kainos Print (Canberra/Sydney)
35 published stories. One e-book and printed anthology, The Seven Deadly Sins
edited by David Vernon, e-book — and paperback, Stringybark Publishing,
ISBN: 978-1-47630-9552
$14.95 includes postage within Australia. Discounts for multiple purchases.
Purchase E-book ($3.95 AUD)