Stringybark Erotic Fiction Story Award 2023
CLOSED

The Stringybark Short Story Award
THIRD PRIZE
After the Rain
by
Holly Bruce
SECOND PRIZE
Vignettes of Love
by
Darcy-Lee Tindale
FIRST PRIZE
Standing by
by
E.C. Thorpe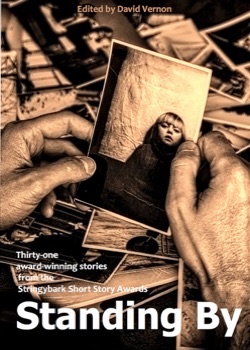 Water slammed through the back door and roared down the hall. A foaming mass of brown filled the space and continued tumbling towards her. She turned and ran, liquid licking her heels. The water wall chased her out of the house into the front yard. She latched herself to the mango tree standing stiffly in the corner, and felt the water climb her legs with fierce intentions. The rough trunk dug into her arms as her grip tightened. The water continued climbing.
— from "Flood Day" by Tamara Lennon
Thirty-one award-winning stories fill these entertaining pages. Written by Australian and international authors these stories explore Australian culture — sometimes funny, often poignant, occasionally unsettling, this anthology showcases the best of Australian contemporary short story writing.
HIGHLY COMMENDED
Light — Julia Archer • Balance Sheet — Holly Bruce • The Three Towel Nightmare or The Full Tonk — David Bentley • The Colour of Dreams — Pauline Cleary • Naming — Karen Comer • Nurofen Nut Pain — Anthony Coorey • A Darkling Plain — Julie Davies • The True Story of Waltzing Matilda — Otto Fischer • The Man of the House — Gabrielle Gardner • Splinters — Ashley Goldberg • The Rising Sun — Lo-arna Green • Frank's Labyrinth — Cassie Hamer • Harry D — Chris Hicks • Duplicity — Karen Hruschka • Silence is Golden — Kym Iliff-Reynolds • Are You Ready? — Julie Kearney • Flood Day — Tamara Lennon • A Local Newsflash — Martin Lindsay • Heading Home — Clare Lond-Caulk • One Day, Maybe — Alison McCaffrey • The Cloakroom — Brendan Murray • Dog, Man's Worst Fiend — John Pitman • Fish Families — Sharmayne Riseley • Ten Guitars — Kay Shacklock • Sunday — Beejay Wilcox • We Can't Speak Spanish — Luke Thomas • Dog of a Night — Julie Twohig • Transition — Valerie Volk
Competition Closed: 31 January 2016
249 entries. $869 in prizes.
Judges:Dr Kathryn Collins, Kerry Cameron, Dr Rick Williams and David Vernon
Editor: David Vernon
Proof-reader:
Cover designer:
Cover photographer:
Ausralian printer:
31 published stories. One e-book and printed anthology, Standing By
Edited by David Vernon, e-book and paperback, Stringybark Publishing,
ISBN: 978-0-9925759-4-6
$14.95 includes postage within Australia. Discounts for multiple purchases.
Purchase E-book ($3.95 AUD)