Stringybark Erotic Fiction Award 2023
OPENS 20 JUNE

The Stringybark Short Story Award 2010
THIRD PRIZE
Last Post
by
Joanna Capelle
SECOND PRIZE
Passing
by
Steven Ross
FIRST PRIZE
The Umbrella's Shade
by
Jane Delahey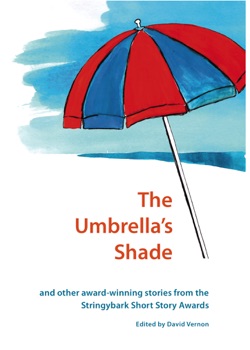 HIGHLY COMMENDED
Letting Go — Paula Wilson • Same Old — Jess Clarence • The Masked Transformer — Kurt Ulmer • The Footsnake Story — Gayle Beveridge • Gastropodia (A Tale of Horror) — Athol Henry • Cy — Ted Witham • Running Out of Time — Rebecca Raisin • Long Road — Mavis Stucci • Swollen — Camilla Walker • Crocodile Creek — Meg Mundell • Violet and the Opera — Jeanette Fegan • A Stolen Childhood — Kurt Ulmer • Reading the Water — Beverley Lello • Black and White — Kerry Cameron • Mrs White — Pamela Tatt • Sheila — Carol Price • The Datsun — Dominic Counahan • Cockatoo Gran — Karen Crofts • Ted — Julian Howard • Monsoon 1962 — Jack Sturgess • Rainbow Letter — Robyn Sykes • The Draft — Sarah Fraser • That's Fair — MJ Cope • The End is Nigh — Raymond Southall
This unique anthology brings together 27 short stories from established and first-time writers. The themes are many and varied. They are united by a common passion and curiosity for exploring the Australian character and how Australia's big, broad land affects those who live here. Dip your toe in and sample the very best entries in the Stringybark Short Story Award 2010 as selected by David Vernon, Gina Meyers and Andrew Perry.
Competition Closed: 14th December 2010
159 entries.  $515 in prizes.
Judges: Gina Meyers, Andrew Perry and David Vernon
Editor: David Vernon
Proof-reader: Barbara Vernon
Cover designer: Tessa King
Australian printer: Digital Print Australia (Adelaide)
28 published stories.  One printed anthology, and one e-book.
edited by David Vernon, 120pp, paperback
Stringybark Publishing, ISBN: 978-0-9870922-0-5
A$14.95 $9.45 includes postage within Australia.
Discounts for multiple purchases.
Purchase E-book ($3.95 AUD)