Stringybark Erotic Fiction Story Award 2023
CLOSED

The Stringybark Erotic Short Fiction Award
THIRD PRIZE
Heart Rate
by
Jennifer Ryder
SECOND PRIZE
The Point
by
Colin Campbell
FIRST PRIZE
Valentine's Day
by
Elliot DeLocke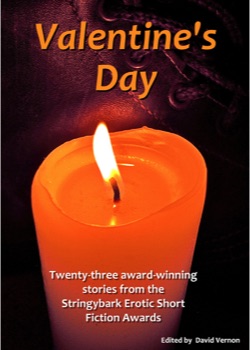 He reaches into the bath, and with a wordless question she answers in her smile, pulls the plug and they both watch as the water subsides, exposing her body, covered with snow drifts of bubbles, and swirls of receding water. Extending a hand he pulls her to her feet, and reaches for the towel, then expertly starts to dry her. This unexpected expression of devotion creates such a sensation of care and delight she laughs, then reaches up and kisses him soundly, dripping bath water down his beard and onto his shirt. They hold each other, kissing softly.
— from "The Loving" by Rees Campbell
Twenty-three award-winning erotic short stories illustrate the creativity and sensuality of contemporary erotic writing in this delightful anthology. Chosen from over 160 entries in the Stringybark Erotic Fiction Awards these sexy tales will charm, arouse and provide warmth on the coldest evening. From the discreet to the explicit there is something for every reader.
HIGHLY COMMENDED
Caught by the Camera — Jim Baker • Dreamtime Calling — Natalie J Barlow • Grand Final Climax — Glenn Bramich • The Loving — Rees Campbell • The Honey Trap — Cece Carmichael • How to Light a Fire in Winter — Erica Cooper • Bird of Passage — Julie Davies • Dubstep — Cindy Hodgon-Ross • Hand Painted — Brennan Jace • The Broken Girl — Ruby Louise • Double Header — Richard Marman • Mick's Story — Lexie North • Scrambling for Moments — Aisling O'Sullivan • …and Heaven Smiles — Maria Radanov • Pomegranate — Josh Redman • At the Pirate's Booty — Sybil Rush • Home — Clementine Stevens • Inside the Spectrum — Derek Wayne • Red Velvet — Wendy Walsh • Silk — Michael Wilkinson
Competition Closed: 31st March 2012
162 entries. $770 in prizes.
Judges: Kerry Cameron, Antoinette Merrillees, Jamie Todling and David Vernon
Editor: David Vernon
Proof-reader: Jeanette Vernon
Cover designer: David Vernon
Cover photographer: Kerry Cameron
Australian printer: Printstant, Canberra
23 published stories. One e-book and printed anthology, Valentine's Day
edited by David Vernon, e-book and paperback, Stringybark Publishing,
ISBN: 978-0-9875239-1-4
$9.95 includes postage within Australia. Discounts for multiple purchases.
Purchase E-book ($3.95 AUD)